About SLIQHAQ
SLIQHAQ sell premium shaving and skincare products for men. We want you to have as comfortable shaving and skin care experience as possible. We hope you'll find easy to understand information and knowledge here to choose the right products that make a difference. SLIQHAQ Academy teaching you everything you need to know about shaving and skin care.

Opening hours: 10 am - 6 pm working days.

We do love to know what you think about us, our service and our products. Go to "contact us" where you will find a contact form.


SLIQHAQ is certifierad ecommerce with a cerfication from Trygg E-handel in Sweden. When you shop with us you can be sure that we follow the rules and obligation that follows a certification for "safe e-commerce" in Sweden.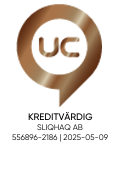 Customer service is key and we appriciate your honest feedback and inputs. We are happy when you take time and contact us. 

SLIQHAQ AB was founded in 2012 and runs SLIQHAQ retail store, e-sales and barbershop. We are located in Umeå Sweden.
Copyright © 2020 SLIQHAQ AB (556896-2186)

VAT: SE556896218601

Store address
SLIQHAQ AB
Björnvägen 11
906 40 Umeå
Sweden

Phone: +46 10 516 47 77

Opening hours: Monday-Friday 10:00-18:00 (GMT + 1:00)

Org. No 556896-2186 BG 873-4899

If you have any questions about the company, the webshop or our products, do not hesitate to contact us.

Send us an email: support@sliqhaq.se

We hope you enjoy looking around our site!